Wiredrive's embeddable media player lets users easily add individual video and audio files from their Wiredrive system to a website or blog post. To see how it works, please see the video above.
Highlights:
Easy-to-use embed code generator
Customizable player dimensions and colors
Playback options to loop, autoplay, and hide player controls
Keep in mind that you cannot make the players dimension larger than the source file.
Embedding a file from Projects
In Projects, click on a file to open the file detail. In the top-right hand corner of the page, click the Embed button. This will pop open an editing wizard.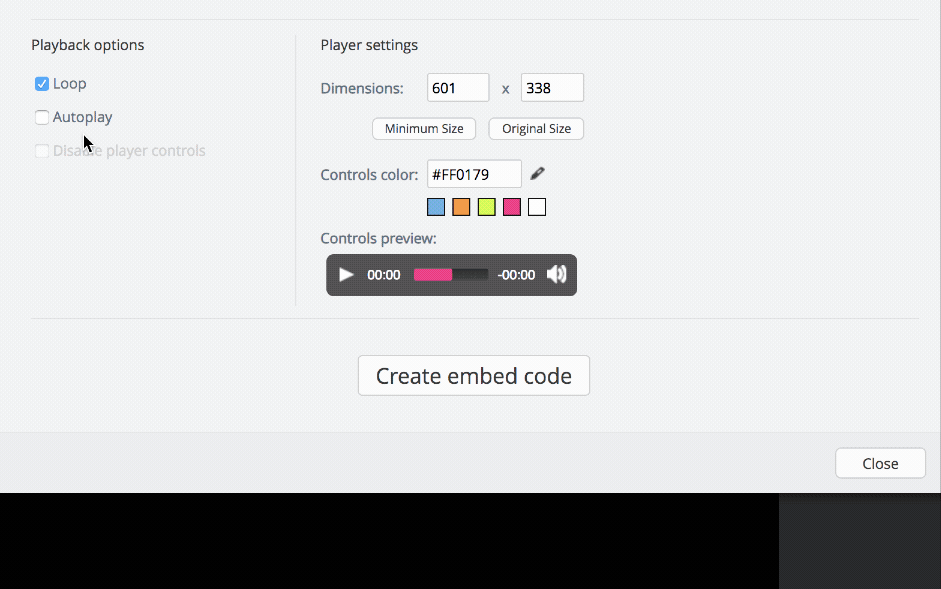 On the left-hand side, you can customize Playback options to set the file to loop or autoplay, You can also disable the player controls to hide them from view.
Under 'Player Settings',  you can set the desired dimensions for the media player. You can decrease the size of the player, but the dimensions cannot exceed the original file size.
You can also customize the color for the player controls, using the color panel or a hex code. Click Create embed code to generate the embed code.  Simply copy and paste this code in to a blog post or website to embed your Wiredrive asset.
Embedding a file from Library
In Library, choose a file from the search results. In the bottom left below the preview window, click the Embed button. This will pop open the editing wizard, which you can use to customize your media player (see above).
If you would like to embed an entire reel and/or multiple assets all at once into your site, that's possible through our RSS feature. Please check out this article here.